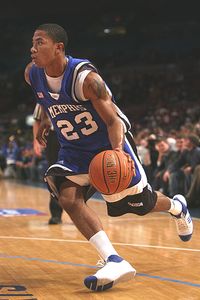 Here is my first edition of a mock draft for 2008!
1. Chicago Bulls - Derrick Rose (Memphis)
Beasley seems to be a better fit, as the Bulls need a low-post scorer, but I simply think Derrick Rose is the better player. He's unstoppable in the open court, and if he ever develops a consistent jumpshot, he looks like a stronger version of Chris Paul (without quite the passing ability). Plus, John Paxson always emphasizes defense, and Derrick Rose has a much higher ceiling as a defender than Michael Beasley.
2. Miami Heat - Michael Beasley (Kansas St.)
Rose is the guy they really want, but Beasley sure is a nice consolation. He's NBA ready both on the offensive end and rebounding the basketball, and should be able to step into a lineup right away. Beasley will have his struggles on the offensive end, but a trio of Wade-Marion-Beasley would be a real good start in Miami.
3. Minnesota Timberwolves - Brook Lopez (Stanford)
With Lopez, the Timberwolves would be setting themselves up to have one of the best offensive frontlines in the NBA. They already have improving Al Jefferson, and Brook Lopez has great touch around the basket. Lopez does not have great athleticism, but he's big and is refined in his post moves around the basket. That could warrant a top 3 pick.
4. Seattle Supersonics - Jerryd Bayless (Arizona)
Seattle already had a nice core from last year's draft, and Bayless would be another great piece. He's a PG in the mold of a guy like Gilbert Arenas, in that he is really quick off the dribble and is a deadeye shooter. He is 19 and Kevin Durant is 20, so that would be a potent 1-2 combo for years.
5. Memphis Grizzlies - OJ Mayo (USC)
The Grizzlies could go with a big man here, but I like them to go with an off guard in OJ Mayo to create an immensely talented young backcourt, teaming him up with Mike Conley (and then ideally dealing Javaris Crittenton or Kyle Lowry). Mayo has great range on his shot (which makes him a good complement to Conley), but can also score off the dribble, and showed surprising leadership ability in his one year with USC.
6. New York Knicks - Danilo Gallinari (Italy)
According to reports, Gallinari is a 6'10'' forward with PG skills. He can handle the ball, create his own shot (either off the drive or with his back to the basket), hit from 3-point range, and he's a good passer. Sounds like a perfect fit for D'Antoni's system.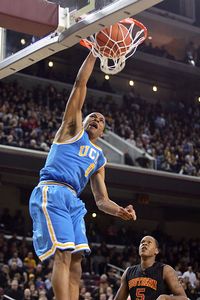 7. Los Angeles Clippers - Russell Westbrook (UCLA)
With the PG position unsettled in LA, Westbrook is a nice fit to stay in town and join the Clippers. While he hasn't played full-time at PG very much, he showed he has the skills to do it last year. He's solid handling the ball, he's a very good passer, and he has the athleticism required. He's very tough defensively both on the ball and in the passing lanes. He needs to develop a more consistent jump shot, but that was coming along as the year went. With his athleticism, he is great on the fast break.
8. Milwaukee Bucks - Eric Gordon (Indiana)
Gordon is a great scoring combo guard. With Gordon, the Bucks could look to unload Michael Redd and his large contract. Gordon can score in a variety of ways, as he showed by leading the Big 10 in scoring as a freshman.
9. Charlotte Bobcats - Anthony Randolph (LSU)
Looking for more athleticism, the Bobcats can look to young, but very talented and athletic Randolph. He's in the mold of a Brandan Wright from last year in that he needs to bulk up and improve his midrange game, but he appears to have the talent to do that. He averaged over 15 and 8 in his rookie campaign, and with over 2 blocks per game, showed that his athleticism can allow him to do some things defensively.
10. New Jersey Nets - Kevin Love (UCLA)
With athleticism all around, the Nets can take Love, who provides an NBA ready, polished game. He'll never be a star because of his athletic limitations, but he's an extremely intelligent player, great passer, rebounder, and showed a nice jumpshot last season.
11. Indiana Pacers - DJ Augustin (Texas)
The Pacers are really pretty bad at PG, so Augustin is the natural pick here. He's not the most athletic PG in the draft, but he's quick enough. He is crafty enough to get his own shot, he's a very good shooter, and he can get them into their offense and get playmakers the ball (as he showed when he played Kevin Durant). This seems like a logical pick for Indiana if Augustin is still on the board.
12. Sacramento Kings - DeAndre Jordan (Texas A&M)
Jordan is extremely raw, but his athletic ability is too much to pass up. He has a long way to go, as he showed by not having a huge impact in his year at College Station (8 PPG, 6 RPG), but with his great ability, he projects to be a solid scorer, excellent rebounder and shot blocker.
13. Portland Trailblazers - Joe Alexander (West Virginia)
With the Blazers looking to make a run at the playoffs next season, Alexander is a guy that could come in and give them quality minutes right away. He's not very good defensively, but he has an advanced offensive game and can score in a variety of ways. He's sneakily athletic, has a great jump shot with lots of range, and showed he can carry a team for stretches.
14. Golden State Warriors - Donte Greene (Syracuse)
Greene looks like a great fit for Nellie ball. He's a 3/4 combo guy that can stretch the floor with his outside shot. He's great in the midrange, and shot nearly 35% from downtown in his one season for the Orange. He looks like he could develop into a very solid rebounder with his athleticism and leaping ability, as he averaged over 7 per game. He might not be ready to play a lot of minutes right away, but he should be able to contribute some with his varied skills.
What are your thoughts? What would you change around?